Tikbalang

Spear Thrower
Statistics
Gender
Male
Reincarnated as
Tikbalang
Appeared In
February 2009
Preceded by
Danak
Followed by
Agtayabun
Tikbalang is a Dark Ages figure who appeared in the February 2009 issue of the K-Zone magazine, along with Alita.
Tikbalang is a spear thrower, and belongs to a clan of Filipino warriors called the Luman clan. After the Dark Ages, his soul has reincarnated to a Foldabot who is a member of the Mitochrons.
Card Stats
Edit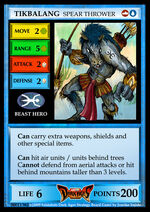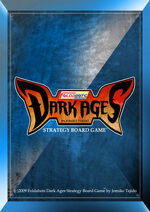 Life: 6
Points: 200

Move:

2

Range:

5

Attack:

2

Defence:

2
Can hit units in air and behind trees.
Can carry extra weapons, shields, and other special items.
Can pass through water and climb mountains.
Cannot defend self from aerial attacks.
Cannot hit behind mountains taller than 3 levels.
How to Make Tikbalang
Edit
Fold out the feet flaps outward. Glue the front and back panels of its body.
Fold the sides of the platform to form a 3D base. Glue the figure's feet to the platform.
Glue a spearhead to a spear stick. Curl the horse head and glue it to the head area. Glue a completed spear to Tikbalang's right hand.
Glue the front cloth on Tikbalang's front and glue the horse tail on Tikbalang's rear.
Curl the Backpack and glue it to itself. When dry, glue it to the back of the Tikbalang figure.
Assemble the rest of the spears and slip it into the backpack. You may glue it in so they won't fall off. Spears can be removable to recreate actual spear-throwing gameplay.
Print out Tikbalang's Foldabots Dark Ages card (front and back).
Glue front and back of card together.