Saurobots
are a group of powerful
Foldabots
who transform into dinosaurs. They are the brute force and close-knit combat team They give much havoc and ruckus to
Lutabots
stupid enough to fight them. They combine into Saurotron, which brings extra trouble to Lutabots.

Their adversaries are the
Yelobots
.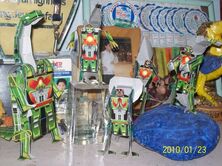 The Saurobots somehow resemble the Dinobots who display brute force and little or average intelligence seeing as they're simple-minded but loyal.
They were defeated by the Yelobots in their Yelotron form but were avenged by Buhawi.
Though defeated, the Saurobots were encased in ice, thus they will return in 2055 in the Foldabot comics.
They came back being summoned by the Mitokrons to battle the Magmabots.