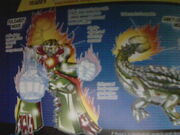 Bato
is a Foldabot and a member of the Saurobots.
If there's a search-and-destroy mission, Bato is the foldabot for the job. Armed with the most formidable body armor, Bato is able to convert heat from undergroundand convert it to a flaming heat shield. In Ankylosauros mode, his mighty tail not only acts as a lethal club, but also as a flamethrower. Bato can Divert all his heat energy from his tail and use it to protect his friends, especially when he folds into Saurotron's right arm, which is a built in weapon itself.
Appearance
Edit
he is a red and green foldabot whose alternate mode is an Ankylosauros.
Intelligence:1
Endurance: 2
Strength: 4
Speed: 1
Special Skill: 4
Abilities
Edit
Enchanced body armor generates heat shield
Highly-advanced olfactory sensors
Communication through special sound wave emitters
Concealed firing spikes
Tail can hurl napalm
Bato means "rock" or "throw".
Bato's head looks like his body.
Bato is the only one in the Saurobots to have a mouth.
Bato has the same ability as Siklab, which is producing fire.
It's possible he's named "Bato" because he throws the flames he produces from his tail or probably because a real ankylosaurus' back is rock hard.
His tail was ripped off by Yelotron.