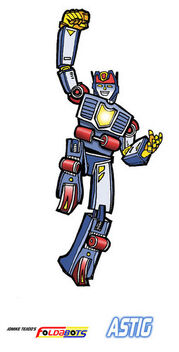 Astig
is a
Foldabot
stealth warrior.
Definitely built for fancy street action, he rolls with style and distinction and can weave through heavy traffic while keeping his rider safe. Sometimes his daredevil instincts Combined with his desire for cooler skateboard tricks can lead to risky situations.Though not as tough as his bigger Foldabot buddies, his humorous antics can lighten up anyone's day.
Intelligence: 2
Endurance: 3
Strength: 2
Speed: 4
Special Skill: 3
Abilities
Edit
Enhanced lightweight alloy
Solar-powered photon beam particle cells
Shock-absorbant rigid steel framing
Has twin turbo thrusters.
"Astig" is the Tagalog word for "cool" or "awesome"
Astig's helmet resembles that of Optimus Prime
Astig also has a design remake during K-Zone's 2008 issue. However, the design remake ddin't make it to any of the toy books.
Astig is one of the first Foldabots to ever be made into a masterpiece edition the second being Bangis and third being Patrol.